Admissions
If you are considering applying to Blaby Stokes CE Primary School, we would be delighted to meet you and show you around the school. Please contact the school office to book onto our next Open Event (9th October 2023 & 27th November 2023) by calling 0116 277 2082 or emailing office@bsp.learnat.uk
The Local Authority has a duty to provide school places to all pupils resident in its area: Leicestershire achieves this by giving high priority to catchment area children and by allowing parental preference wherever possible. Blaby Stokes CE Primary School admissions policy and procedure supports Leicestershire's position.
Parents must apply to their home Local Authority for a school place. (For example, if you live in Northamptonshire but would like to send your child to a school in Leicestershire, you must apply for that school via your Northamptonshire Council website). If you are a Leicestershire resident and would like to find out more information, or make an application, please visit their website.
The admissions window for first time primary school places, runs during your child's preschool year -
Key Dates:
Application window opens: September 2023
Application window closes: 15th January 2024
Notified of school place: 16th April 2024
Starts school: End of August/September 2024
So, if your child is due to start school in September 2024, the process starts in September 2023.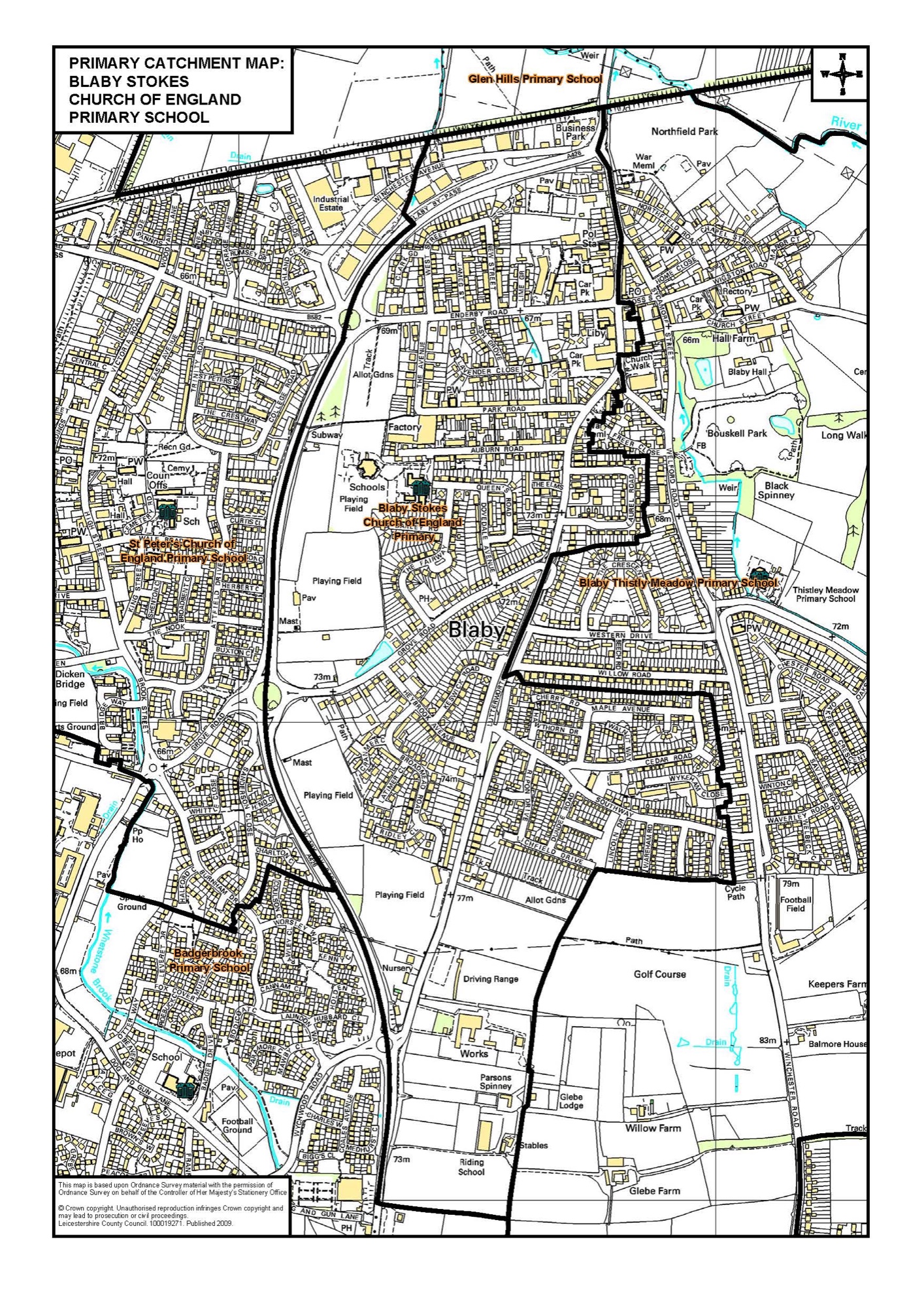 Midterm Transfers
If, for whatever reason, you would like to move your child from a different school to Blaby Stokes CE Primary School midway through a year, we would be very happy to discuss your situation with you. Please make and appointment via the Office.
To apply for a midterm transfer you will need to apply via the schools Local Authority. Please go directly to the application form using this link https://www.leicestershire.gov.uk/education-and-children/schools-colleges-and-academies/school-admissions/apply-to-move-school. Our contact for admissions at our school is the Office Manager, you can reach her on 0116 277 2082 or by emailing office@bsp.learnat.uk and she will be able to help you with any queries. We participate in full with the Local Authorities co-ordinated scheme.
The School Admissions Code states all admitting authorities must aim to have a decision to parents in 10 school days & it is mandatory the decision is with a parent in 15 school days.
The Trust/Governors by 28th Feb 2023, agreed operational capacities for the 2023/24 academic year for Blaby Stokes Primary School, Year 1 – will have an operation capacity of 30, effective from 2023/24 academic year, all other admission numbers remain unchanged.
First time admissions in September 2022 and mid-year admissions during the 2022-23 school year:
Learn-AT Admissions Policy 2022/23 - Part 1 (PDF)
Learn-AT Admissions Policy 2022/23 Part 2- Blaby Stokes CE Primary School
First time admissions in September 2023 and mid-year admissions during the 2023-24 school year:
Learn-AT Admissions Policy 2023/24 - Part 1 (PDF)
Learn-AT Admissions Policy 2023/24 Part 2 - Blaby Stokes CE Primary School
First time admissions in September 2024 and mid-year admissions during 2024-25 school year:
Learn-AT Admissions Policy 2024/25 - Part 1
Learn-AT Admissions Policy 2024/25 - Part 2