PTA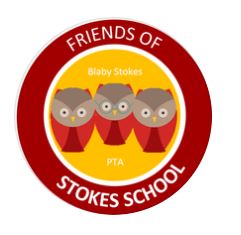 We are a group of parents and carers, with a wide variety of skills and interests, whose aim is to raise funds for the benefit of all children at Blaby Stokes CofE Primary School in a fun and sociable way. Some of our recent fundraising events include:
Secrets Room
Cake Sales
Bingo night
Discos
And new for 2023 - we're organising a Colour Run for June!
We always welcome new parents and carers to help and support our varied fundraising events.
Our past fundraising events have meant that we have helped to fund coaches for different school trips, the Wonderdome, playground stage, books for the school library and most recently dictionaries for classrooms. Make sure you check out our two window displays one in The Lodge and the other one as you walk down the path to The Headlands Building to see what else is happening in school.
Our Committee -
Becky Bunting, Charlotte Wileman, Emily O'Donoghue, Jen Taylor, Jess Hunt, Lian Smith, Sarah Ploughman and Sharn Egginton (Chair).
We meet regularly to discuss fundraising ideas and plan events in a relaxed and informal atmosphere. Our Next Meetings are scheduled for:
22nd March
26th April
w/c 22nd May (date TBC)
Find us on -
Twitter: blaby-stokes.pta
Facebook: Blaby Stokes PTA
Email: blaby-stokes.pta@hotmail.com
Support is always welcome -
Everyone is welcome at the meetings
Send us an email and we will add you to our contact list
You don't have to be a member or commit on a regular basis – just help when you can.
Keep a look out for the school newsletters, follow us on Facebook
Let us have your ideas!
Register with www.easyfundraising.org.uk to support Blaby Stokes PTA when you shop online.