Music and Performing Arts
Why is it important to teach music?
At Blaby Stokes Primary School, we know that music can play an important part in children's development. We have found that it is a fantastic way to unite the school and as such we sing together on a daily basis. Research shows that music can have positive physical, social and psychological benefits. Participating in music and singing can trigger the release of feel good hormones and can support children across the curriculum, including developing key skills such as concentration, creativity and self-confidence.
What does Music look like at Blaby Stokes Primary School?
Using the Leicestershire Music Primary Scheme of Work, music is taught in every year group. Teachers can adapt the scheme of work to suit their curriculum theme, without losing the teaching of musical skills. Clear progression is built into the scheme.
What musical events and learning opportunities are there at Blaby Stokes Primary School?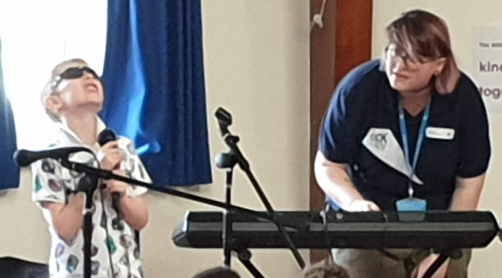 Children can learn a range of instruments including cello, guitar, piano, recorder and ukulele in one-to-one and small group lessons with a qualified teacher.
We have 2 choirs – FS and KS1 and KS2. Our choirs and peripatetic pupils perform in our Christmas and Summer concerts.
All children in Y4 participate in WCET (Whole Class Ensemble Tuition.) They learn to play Djembe Drums and have frequently play at The summer music concerts at De Montfort Hall.
We also have 4 Rock Steady bands, who perform once a half term to the whole school and parents.
The aim for our Performing Arts education is that we provide opportunities for our children to engage their mind, body and emotions as they express themselves with increased confidence. Every class across the school leads class assemblies throughout the year, to which other year groups and parents are invited to watch.
We value high quality performances and all of our children are involved in several productions as they progress through our school – we believe these offer memorable experiences whilst increasing the children's ability to express themselves and develop in confidence.